Chelsea's first major signing of the transfer window brings strength in a much needed area for the blues, the striker department. Michy Batshuayi, the 22-year old forward from Marseille, was purchased for around £30 million pounds. A promising young striker who scored for Belgium in the Euros this summer, he will be hoping to follow in the footsteps of the former Chelsea legend Didier Drogba, who was also bought from Marseille.
Although I am by no means an expert on Michael Batshuayi, or the 'batsman', I want to show that you can gain a good idea on a player by looking at a few stats. Obviously in the real world of football, you would do much more analysis/scouting.
As you can see from the Squawka comparison, Batshuayi's 16 non-penalty league goals last season are no fluke considering his statistics. He scores almost every other game, and 3.74 shots per game is also impressive. He managed to get significantly more shots on goal than Costa last season, and these were not all just shots from 30 yards out. Only one player had more shots on target in Ligue 1 last season than Batshuayi, and Michael Caley's expected goal model gave him 18.1 expected goals. Most of his shots are also inside the penalty area, which is a good sign of shot quality.
From the same Michael Caley article, Batshuayi has very good expected goals and assists numbers, roughly the same as Harry Kane. Expected goals is very useful as an indicator of past performance, and hence can help us predict how well a player or team may perform. 
It is also important that the statistics used to compare players are standardized, by comparing the per 90 totals, which adjusts for playing time.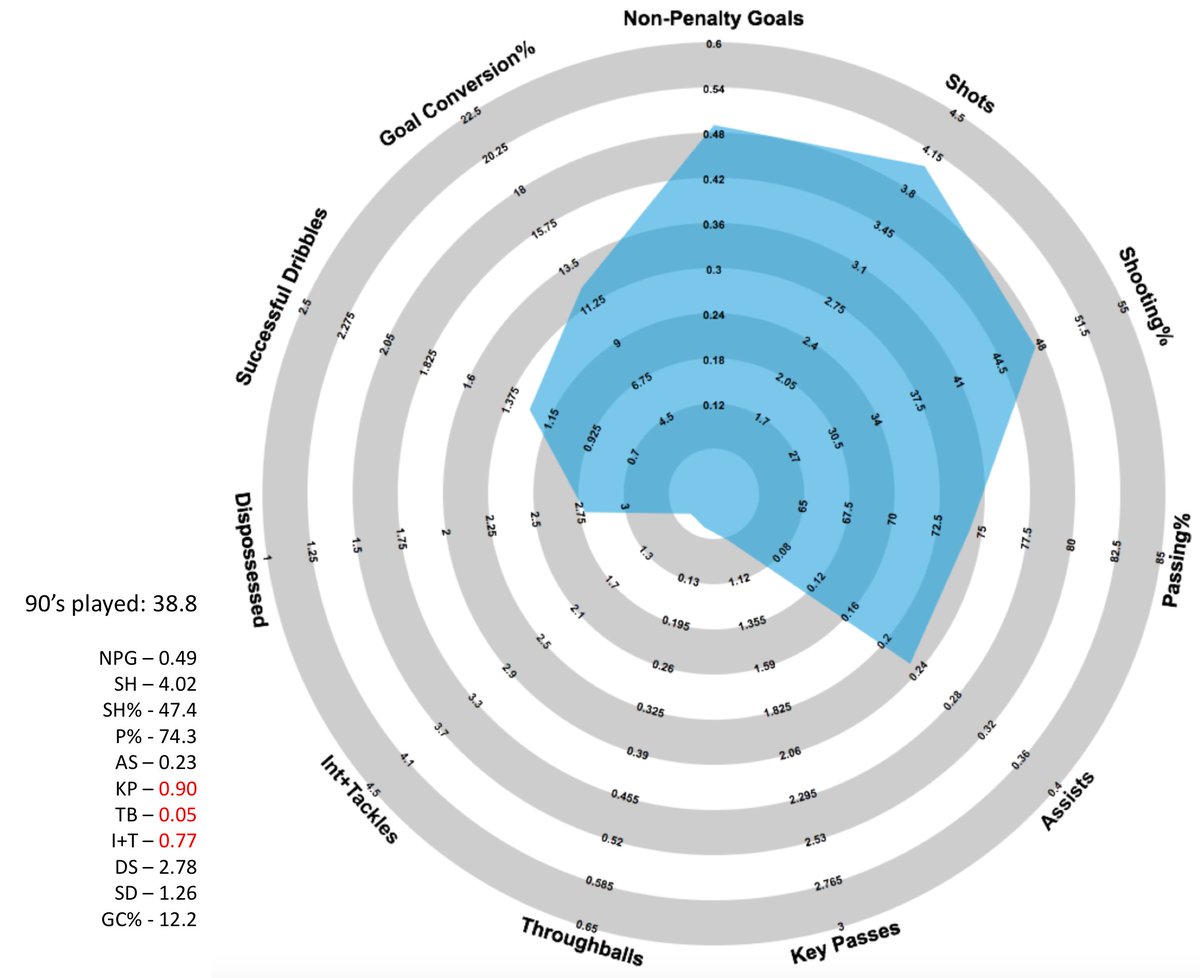 This radar from @fussballradars is a very useful visualization of Batshuayi's statistics. It clearly shows how many shots he's taking, and almost half of them are on target. It's interesting to note though that although Batshuayi seems a more technical striker than Diego Costa, Costa completed 1.81 dribbles per 90 last season, compared to Batshuayi's 1.26. However, Batshuayi had a higher percentage of completed dribbles than Costa, suggesting he knows when he can take a player on and beat him, or when it's the right time to take on a player.
It seems very likely that Conte's Chelsea will operate with two strikers next season in a 4-4-2/4-2-4 formation, especially after the signing of Kante. In my opinion, Batshuayi has the ability to do well in a potential second striker type role for Chelsea, especially if Antonio Conte sets up to play on the counter.
I hope that a look at some of Batshuayi's stats has given you the idea that he is a promising signing. Whilst writing my first post, I realized that there is a lot for me to learn about football and statistics, and how to carry out analysis like this. I'm glad that my blog is giving me the platform to do so, and I look forward to it.